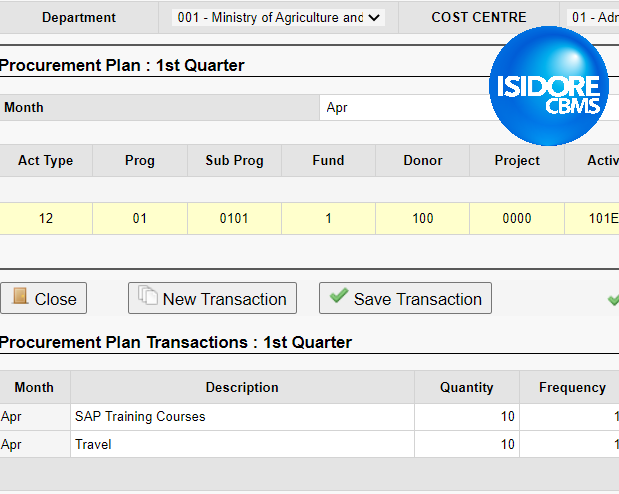 Budget Procurement Planning
Isidore has just implemented a Procurement Planning module to the Government of Lesotho as part of our existing Public Sector Centralised Budgeting Software, Isidore CBMS.
The Procurement Planning Module allows government agencies to report on their forward purchasing plans, thus allowing budget controllers to accurately forecast cash flow expenditure during the fiscal year with a degree of detail and certainty that was not possible before. Budget controllers are now able to see exactly where funds are being directed and within which timing. When treasury allocates funds to a Ministry via an Exchequer or Warrant release, there is complete transparency as what these funds are being allocated to.
Working with procurements and phasing within the budgeting system has been a huge process imporvement.
Cash flow is managed via the budgeting software (Isidore CBMS) including allocation to budget items, activities and projects based on real timings and commitments, which flows through automatically to the Finance System for release by specific Account Codes.
This brings common functions within the system to avoid external processes being carried out manually, reduces error, improves budget management and provides an audit trail for the budget management cycle and central management. This is typically not available through normal budget systems and processes and is anther great example of Isidore CBMS being fit for purpose and adding value to Government Public Sector Financial Management.
Administration is provided centrally for management of all Departments/Ministries of a jurisdiction/country who individually maintain their own detail within the set budget and guidance of the central Ministry/Department.